Youth camps and one-day activities

Neptune was created in 2014 with the aim to offer moment of happyness, laughter and unforgettable memories to children of the region who don't have the possibilities to go on holydays during the summer.
The one-week camps on lake Neuchâtel are destined to youth between 8 to 18 years old. The youth sleep on the Vully vessel and practice all sorts of natural activities, e.g.: standup paddle, water skiing, sailing and towed buoys.
With sport, contact with the nature, the community life on board the youth, often mistreated by life, reconnect with the values we would like to transmit, i.e.: the sharing, the respect, the solidarity, the confidence in life and above all in believing in themselves.
Testimonials
Since the creation of the Association 70 youth have participated to summer camps. Strong ties have been created between them and the adultes in charge. It is great satisfaction to see them to evolve positively.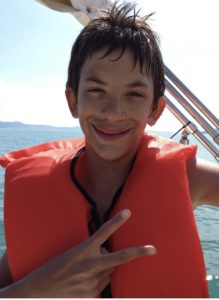 Loïc - 13 years
Sleep on the lake is a unique experience: it shakes and rocks but we get use to it. We could have even sleep under the stars.
Aidin - 15 ans
What I prefer is the buoy towing - it is the most awesome !
Bénédicte - 12 ans
We create strong ties during these camps on the water.  We leave each other crying.